That every man should take his own, In your waking shall be shown: Jack shall have Jill; Nought shall go ill; The man shall have his mare again, and all shall be well.
Krannert's season of classics continues with another adaptation of a Shakespearean work, A Midsummer Night's Dream. The selection and method of appropriation, like that of The African Company Presents Richard III, reminds us that was is really at hand is not an exploration of the Western canon, but a considering of what it means to be a "canonical." As the emended title, "it's a bacchanal!," suggests, this staging of the Dream is explicitly interested in the sexualized content the play suggests.
To that end, there were a lot of exposed bodies on stage, with instances of complete nudity in expected and some unexpected places. An excess of fairies were cast from undergraduate acting and dance majors, and they often remained on stage throughout the action, presenting an interested added layer of witnessing. And yet I found the naturalized aspect of nudity combined with much neon body paint a jarring contradiction. Aiming for a Caribbean feel, the costumes just ended up looking like tacky nock-offs from a rave and cheeping, in my mind, the polyamorous intimacies being staged. The intense sexual tenor of the action never wavered or varied, which resulted in creating two effects: a) flattening out of any potential emotional character development, and b) didn't leave any room alternate readings of the play than the sexually-inflected.
This staging also worked to smooth over its traditionally ambiguous relationships, eliminating interesting sources of tension. One example of this is the kiss and hug Hermia (Sara Heller) receives from her father (Jeremiah Lowry) once Theseus (Jess Prichard) declares her knit with Lysander (Tyrone Phillips). It is an easy resolution to Egeus' angry speech in the first act about progeny and possession. Similarly, the parts of Theseus and Oberon was double cast as well as Hippolyta and Titania (Jessica Dean Turner)–perhaps to make plain a political echo between the high and rustic plot hierarchies. While Titania's lines are unavoidably aggressive towards Oberon, her version of Hippolyta (a captured Amazon) plays the witting and contented captive throughout. So while this casting choice suggests some potential politicized reading of the play, it is smoothed over with a lack of logical antagonism.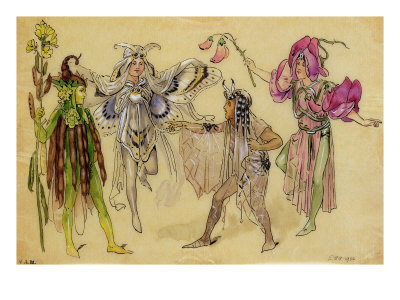 The most unsettling element of this Dream as an audience member is the interpretive rift between the driven, frenetic energy of the fairies, and the pedantic method of verse delivery. Most of the actors were blocked in a way in which they prognosticated to the audience rather than engaging with each other. Every single syllable was slowly delivered in a sense of forced aurality, as if it was there intent that I hear every element of the text. Throughout the production I was painfully aware that I was listening to Shakespeare, and so didn't get a chance to get lost in the play's action. Aside from the intermittent crazed action from the non-speaking ensemble, the play sounded like a staged reading. This style of delivery, ironically, seemed to rob the actors of a sense of their lines' meaning.
As an audience member this left me confused and anxious–unsure whether I was supposed to shut my eyes and focus on the verse or be consumed by the display of bodies and neon on stage. However, it must be said that the rustic's play-within-a-play was done in a funny and smart way, toying knowledgeably with the meta-jokes imbedded in the dumb show parody. It is undoubtedly the production's highlight, and Peter Quince (Carley Cornelius) steals a bit of the show with a clever delivery of the two prologues to Pyramus and Thisbe. In the end, every man has his mare, the aristocracy is stabilized, and the rustics are rewarded and returned to their proper place. Perhaps the only thing radical about this Dream was revealing our own anxiety and novelty associated with what is (or should have been) the production's most natural part: the human body.
---